Welcome to the Mobridge Municipal Swimming Pool!
Pool opens for the season on Saturday, May 29th, 2021!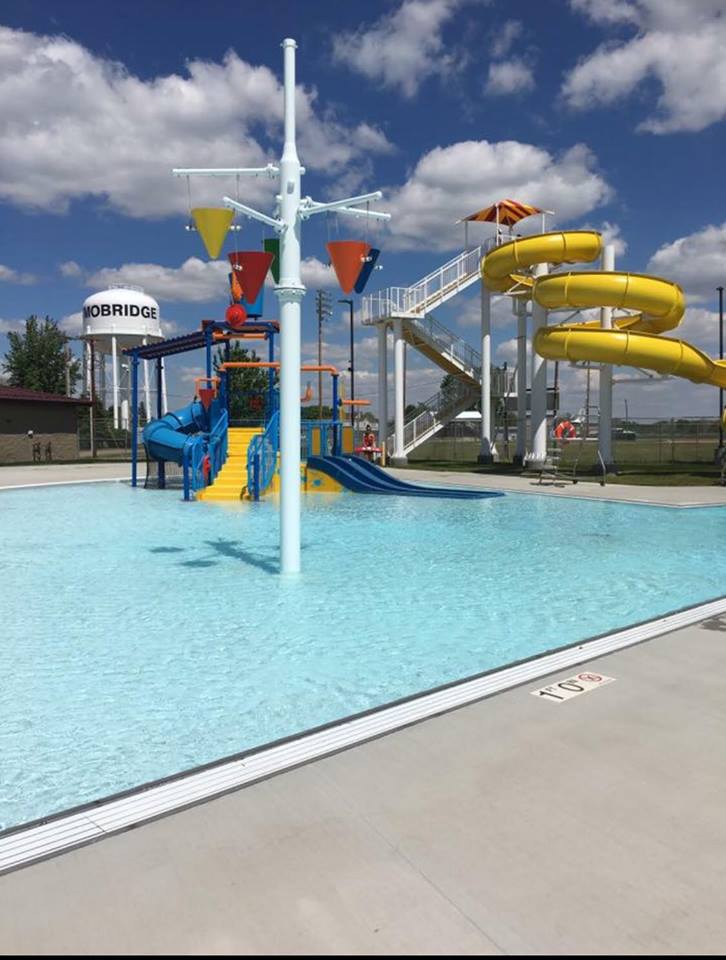 The pool is subject to close in conditions where the outside temperature is below 65 degrees and in severe weather, including lightening. The pool must remain closed 30 minutes after last lightening strike.
Hours:
Open Daily: 12:00pm - 5:00pm & 6:30pm - 9:00pm
Lap Swim: 5:30pm - 6:30pm
Rates:
Family Pass: $135.00 Mobridge Residents; $150.00 Non-Residents
Single Pass: $54.00 Mobridge Residents; $60.00 Non-Residents
Adults: $5.00/Session
Students: $3.00/Session
Swimming Lessons
2021 swimming lesson sign up sheets are now available! $30.00 per child for lessons. Just call City Hall at 605-845-2102 to get your spot reserved.
Sessions:
June 7th through 17th, June 21st - July 1st, July 5th through 15th, July 19th through 29th, August 2nd through 12th
Levels:
Pre School - Ages 3, 4, 5 (Getting acquainted with water)
Level 1 - Age 6 (Introduction to water skills)
Level 2 - Age 7 (Fundamental Aquatic skills)
Level 3 - Age 8 (Stroke Development)
Level 4 - Age 9 (Stroke Improvement)
Level 5 - Age 10 (Stroke Refinement)
Level 6 - Age 11 (Swimming Skill and Proficiency)
Concession Punch Cards Available:
$20.00 for a $25.00 punch card; $75.00 for a $100.00 punch card.
Monica Weninger - Schmaltz, Manager
Contact us:
605-845-7368