Sitting Bull Monument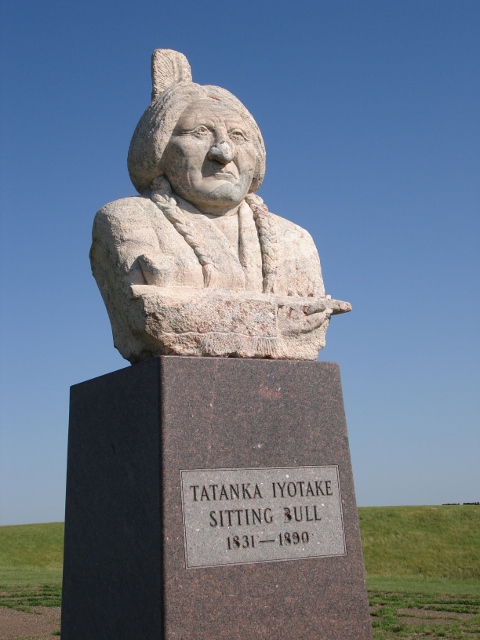 The Sitting Bull Monument is located about seven miles southwest of Mobridge. Chief Sitting Bull, or Tatanka Iyotake, was a Hunkpapa Teton Sioux spiritual leader. In the 1870s, Sitting Bull had relocated to the Standing Rock Indian Reservation near the Grand River in present day Corson County. He became a great spiritual leader and organized a resistance movement against US expansion on treaty-reserved lands. On December 15, 1890, nine years after surrendering to the US government, he was shot to death by Indian police. The police had been executing an arrest warrant in order to prevent Sitting Bull from attending a Ghost Dance revivalist ceremony. The warrant was issued by Indian Agent James McLaughlin, the namesake of the current local community of McLaughlin, SD. Sitting Bull was buried about 500 yards south of the agency cemetary in present day Ft. Yates.
The tragedy of his death has been compounded by the story of his remains. In 1953, one of Sitting Bull's descendants by marriage, Clarence Grey Eagle (the son of one of the Indian police who arrested Sitting Bull), and a group of businessmen from Mobridge obtained an opinion from the Bureau of Indian Affairs that the descendants of Sitting Bull should determine his final burial site. On April 8 of that year, the group used the BIA letter as justification the clandestine relocation of the great chief's remains to a site in the southern portion of the Standing Rock Reservation that overlooks the Missouri River near Mobridge.
Less than five months later, South Dakota dedicated a memorial to Sitting Bull on the site of the relocated remains. A bust created by famed sculptor Korczak Ziolkowski (well known for the Crazy Horse monument in the Black Hills) was erected to commemorate the gravesite. Ziolkowski boycotted the dedication ceremony for the monument by Governor Sigurd Anderson because exploiting the ceremony for political and economic gain was against the wishes of Sitting Bull's descendants.
Both the original gravesite in Ft. Yates, ND and current site have tremendous significance today. Sensitive to the exploitation of Native Americans and the suspect way Sitting Bull's remains were handled in the past, a commitment has been made not to exploit or commercialize the Sitting Bull monument for financial gain. The statue is in an isolated park that remains serene, impressive, and free to visitors. A beloved local landmark with huge importance, it remains strikingly undeveloped and a beautifully secluded spot for picnic lovers and history buffs.