Lake Oahe Offers Structure and Access
Experienced or Novice Fisherman Will have Success in Mobridge, South Dakota.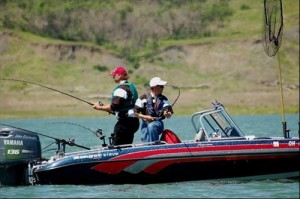 One thing you will find with boat fishing on Lake Oahe, there is always a place to find fish. With the positioning of Mobridge on Lake Oahe, there is always boat access, no matter what the wind speed and direction is. The structure of Upper Lake Oahe can cater to any type of fishing. There are deep and shallow points, submerged railroad grades and islands, in addition to shoreline flats.
You will see anglers using all types of techniques to catch the vast number of species in Lake Oahe. These techniques range from pulling crankbaits and spinners, using leadhead jigs tipped with minnow or crawler, or just a plain hook tipped with the bait of their choice. Whether you are an avid, or first time fisherman, you will find that in Mobridge, almost any technique will catch you some type of fish.