Ice Fishing
Mobridge, South Dakota on Lake Oahe is Your Choice for Ice Fishing Walleyes
Mobridge Hosts the Largest Walleye Fishing Tournament in South Dakota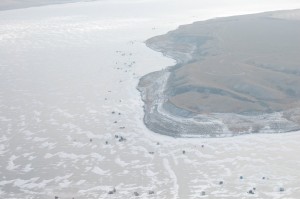 One of the top hot spots in the entire country for taking advantage of first ice walleyes is the Mobridge Area of Lake Oahe. The upstream section of this monstrous Missouri River reservoir historically plays host to hundreds of thousands of wintering walleyes and does so year after year.
The big lake has gone through some hard times recently and it started with a major baitfish shortage that left all of those hungry eyes with little to feed on. That too has passed and the fishery has rebounded with excellent numbers of nice sized walleyes available for those that make the effort.
The first step to getting in on the best Oahe has to offer is deciding on a starting spot and there are plenty to go around. That can actually be a problem as there are so many good looking spots and only so much time. Likely areas include main lake points as well as points and bends up in the Moreau and Grande arms.
Another hot spot that produced hundreds of fat walleyes during the last ice fishing season was a shallow mud bottom bay. As mentioned earlier the forage base has gone through some major changes recently and the walleyes have adjusted which has put them in areas where they haven't been before. What it all translates into is an awful lot of likely looking real-estate and it would be a good idea to try and get as much pre-ice help as you can.
The local bait shops are a great source of up to date information and will do their best to put you on fish.
They know that if you do well you'll be back and maybe bring somebody with you, and so on, and so on.
The thing is reservoir walleyes move and move often, and yesterday's news maybe too old to be useful.
They can also give you an idea of the present ice conditions and where it should be safe and what to look out for. The moral of the story is not to be too proud to ask.
Even with mud bottom bays posing a real possibility, a lot of the early action will still be taking place on those classic main lake points. The thing is they don't all do the same thing at the same time in the same places, and there can be more than one pattern happening all at the same time. The idea is to find a good looking area and stake your claim and main lake points are a great place to start.
The action on a point will move during the course of a day and usually starts in shallow water at dawn, moves deeper during the day, and back up shallow just before dark. Shallow generally means in the ten to fifteen foot range and deep can mean twenty to forty feet or more. Knowing how walleyes make use of an underwater point will allow you to adjust and help get the odds in your favor. The thing is, regardless if you're working deep or shallow you can make hay in a big hurry if you're in the right place at the right time.
If you've decided on a starting spot it would be a good idea to drill some holes both deep and shallow before you get down to business. Even with the thinner ice you're faced with early on a power auger like Eskimo Shark can make the job a whole lot easier. The Shark can cut holes unbelievably fast and fast will get more holes drilled, which can ultimately result in more walleyes iced.
Once you get a good start on turning a likely spot into Swiss cheese it's time to get an offering down the hole and there is no better first ice bait than a jigging spoon. A jigging spoon jigged aggressively can attract walleyes from a longs ways off and is quite often exactly what active early ice walleyes are looking for. A lure like the new Normark Rattle Flash Jig'n Spoon can really turn fish on, as it has the added attraction of a built in rattle. It's hard to say why they work but there is no doubt that they do, and rattle baits can make a real difference in the number of fish you manage to put on the ice in the course of a day. The Normark Rattle Flash Jig'n Spoon comes in wide assortment of hot colors that utilize holographic bodies and eyes and combines the flash and rattle attractions perfectly.
Besides the spoon you may also elect to try a stationary bait with a plain minnow and hook. The plain minnow rig may be just the ticket for walleyes that are just a little off and aren't turned on enough to take a spoon. The spoon may get their attention but the minnow may be what seals the deal.
You can also try setting up a couple of flags in shallower or deeper water, depending on the time of day and where you happen to be working. In South Dakota you're allowed to use four lines which gives you some options when you're trying to figure things out. The thing is when the bite heats up you'll barely have enough time to work with one line, and is when the jigging spoon really shines.
You haven't lived until you've been set up over the top of a hot bunch of reservoir walleyes early in the season, and there is no better place to do it than on Lake Oahe in North Central South Dakota.
Rick Olson
(taken from Fish and Game.com http://www.fishandgame.com/2003articles/110503firstice.htm, by Rick Olsen)