Small Game
Mobridge, South Dakota Offers some of the Best Small Game and Pheasant Hunting
Pheasant Hunt in Mobridge, South Dakota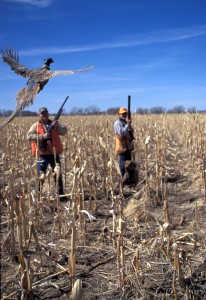 South Dakota pheasant hunting, and Mobridge, South Dakota, can't mention one without thinking of the other. When most hunters from all over the country talk about their South Dakota pheasant hunting experience, Mobridge, SD is always mentioned in the same sentence. The Mobridge, South Dakota area has abundant habitat for pheasant and grouse. The Mobridge area is located in North Central South Dakota where natural prairie grasses in Mobridge area, draw pheasant, turkey and grouse from hundreds of miles away. Contact us for your next South Dakota pheasant hunt. It doesn't get any better than pheasant hunting in Mobridge, South Dakota.
Prairie Dog Hunting in South Dakota
The area provides continuous shooting on tribal land where there will be thousands of prairie dogs that rarely see a hunter. According to the South Dakota Game, Fish and Parks, both Corson and Dewey County contain very dense populations of Prairie Dogs, in fact some of the largest in South Dakota. So even though the drive might be a little farther, it is well worth the action you will experience.